Peewee was hatched here in 1990. She is a Congo African Grey Parrot. She laid her first egg in the spring of 2002 but did not show an interest in incubating it. Instead she has shown more interest in destroying the many boxes we have supplied to her over the past few months! She does a lot of flirting with Beckett Bird, a large male Congo Grey who lives in a cage next to hers and we are hoping that they will eventually pair-bond.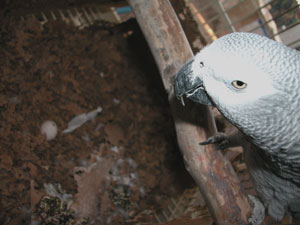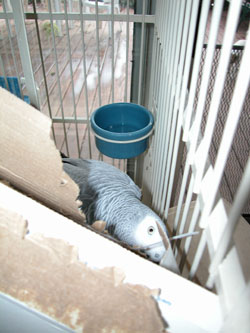 In the image at left, Peewee has laid an
egg in her shredded cardboard box on 3/21/02. She does not seem inclined
to sit on the egg as yet.
On 3/30/02, Peewee has laid yet another egg, having broken the one laid on 3/21/02.